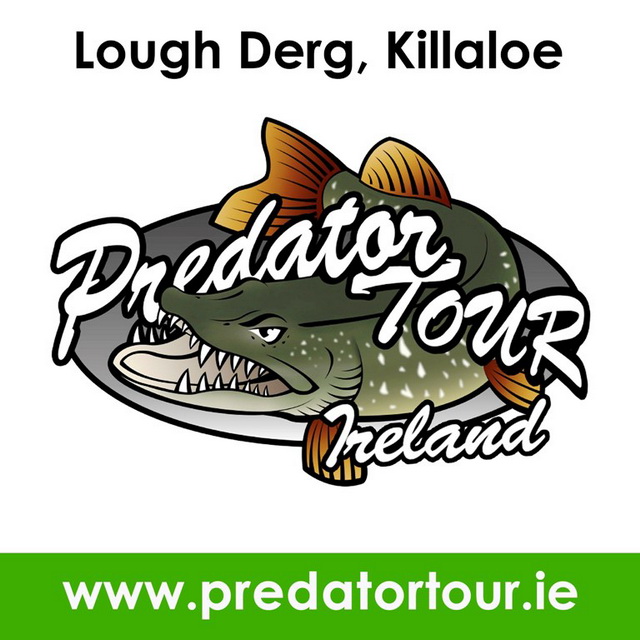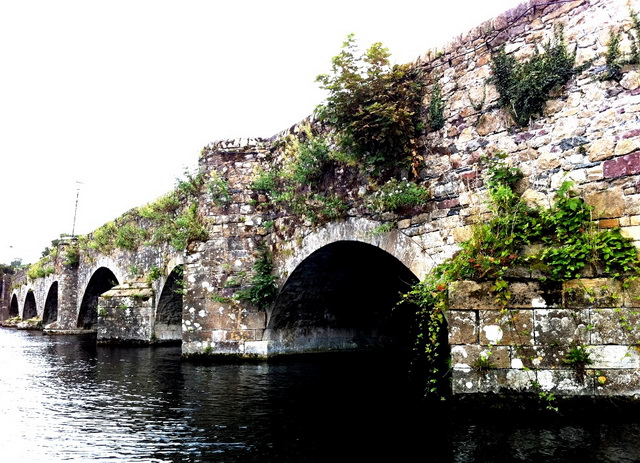 Killaloe Bridge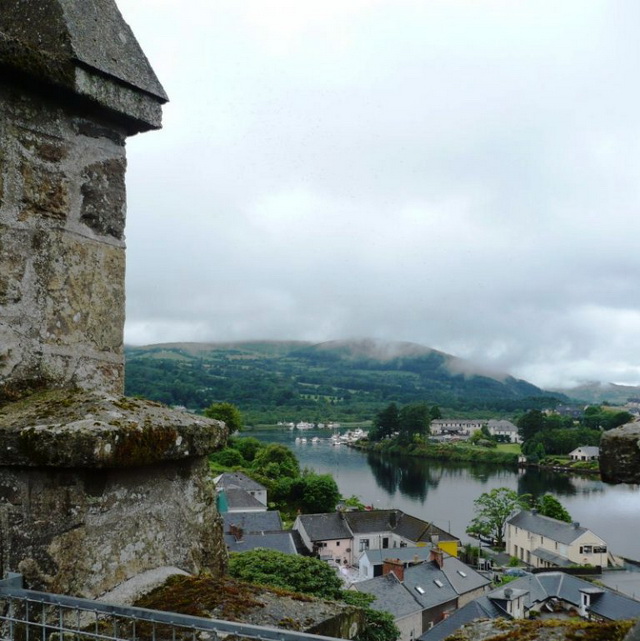 Killaloe view over the Shannon river.
De dag na de laatste visdag alle foto's nog even dubbel gecheckt, klein foutje is zo maar gemaakt in alle hectiek maar alles was correct! Toen alle prijzen met bijbehorende borden van sponsors nog even een check en vervolgens de Lund Fury1600 tiller op de Pega boat trailer van de stalling halen en vervolgens naar de Flanagans waar de prijsuitreikingen zullen plaats vinden.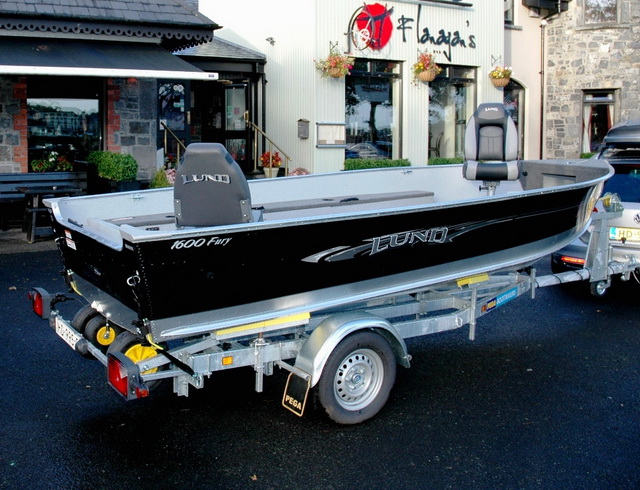 The 1st Prize Lund boat with a Pega boat trailer.
Nu snel de wagen uitpakken en de zaal omtoveren naar een goede presentatie van alle prijzen en dat waren er weer behoorlijk wat!  Toen alles gereed stond voelde ik de ontspanning en kwam ook alle vermoeidheid even boven pffff zware klus hoor al die weken van voorbereidingen en ook nog even de steward uithangen etc etc. Gelukkig bijgestaan door Rene van Vegten en uiteraard Frans Oomen en Frans Provo die op het water ook de boel in de gaten hielden en tevens de voorgaande artikelen schreven.
Super bedankt jongens, knuffels hebben jullie al ontvangen, een oortje komt nog…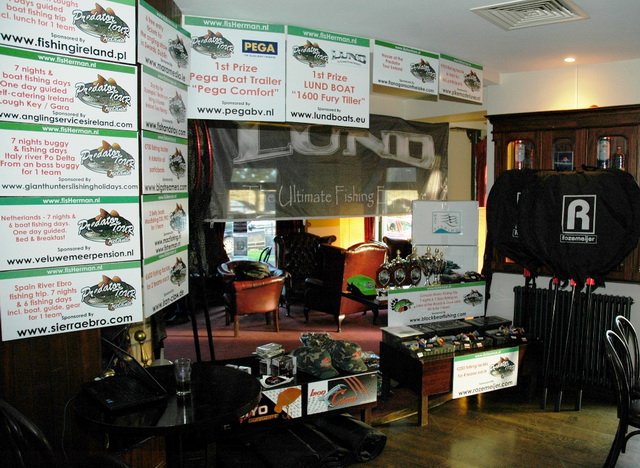 Ready for the prize giving evening.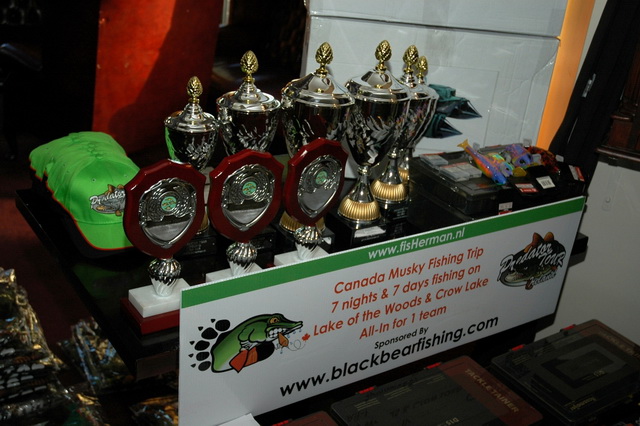 Great trophies and….great prizes.
Ondertussen zijn alle deelnemers gearriveerd maar er moet eerst gegeten worden wat weer prima verzorg werd door Flanagans, het smaakte mij prima. Eerst knappe voedsel na 4 dagen trouwens haha chinees, Indian food etc. waren door tijdsgebrek noodzakelijk yummie yummie.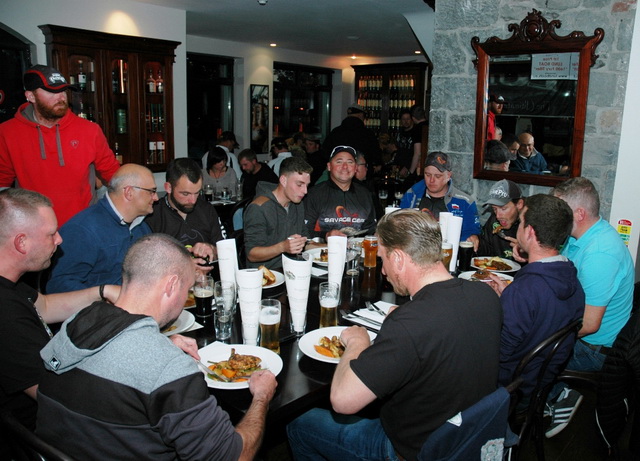 First some great food for all.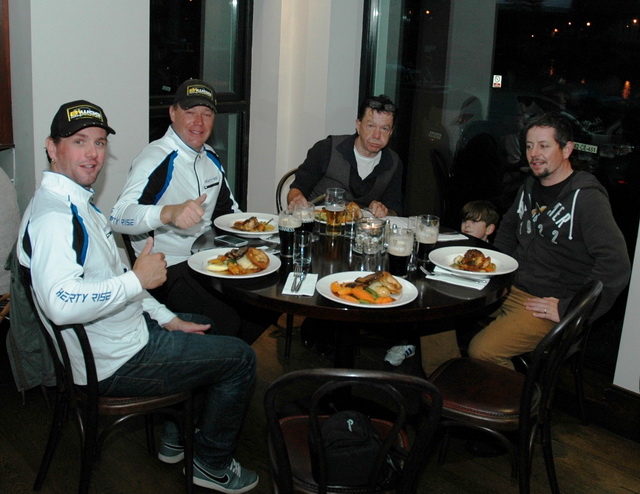 All happy with the food.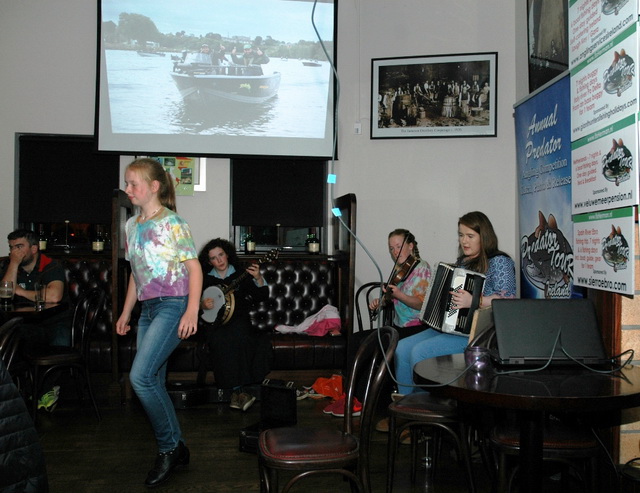 Of course some Irish music and dance, thank you girls.
Na het heerlijk eten beginnen met de prijsuitreiking, we beginnen met de Biggest Pike, Perch and Trout.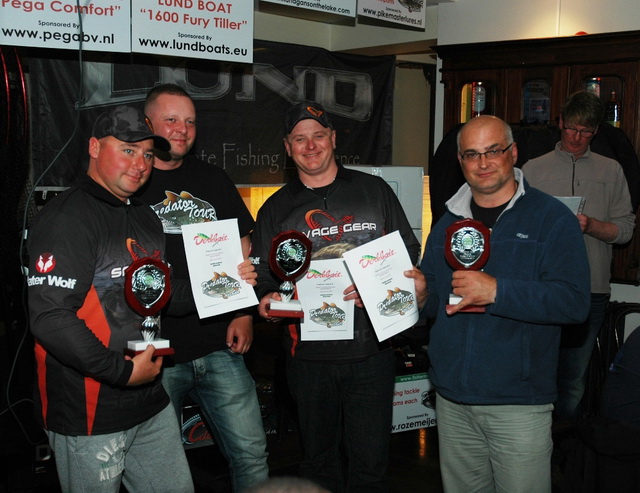 Pawel and pawel biggest Pike 108 cm. Bartosz and Krzysztof de biggest Perch 37.5 cm and also the biggest Trout 66.5 cm. Great trophies and vouchers of Derkbaits www.derkbait.nl
Nu gaat het serieuze werk beginnen en uiteraard beginnen we onderaan de lijst van de teams met hun bijbehorende centimeters tot de top 4 want dan wachten we even om wat spanning op te bouwen….of bedoel ik " even wat drinken halen " haha yup het maakt dorstig!
Giving the score only till the top 4.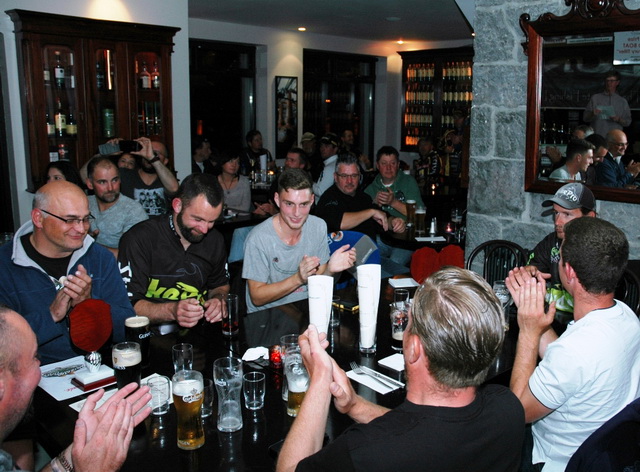 Finally the top 4 and the winners are?
The winners of the Predator Tour Ireland 2016 Lough Derg, Killaloe, Ireland.Tomasz Kurman and Jacek Gorny.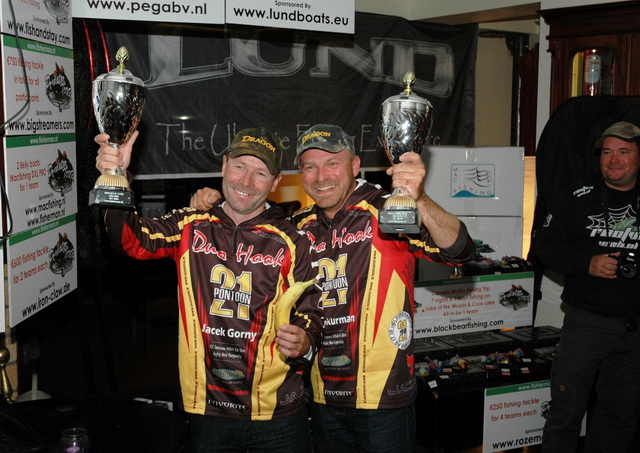 1st Prize for Tomasz and Jacek with a total of 517.5 cm.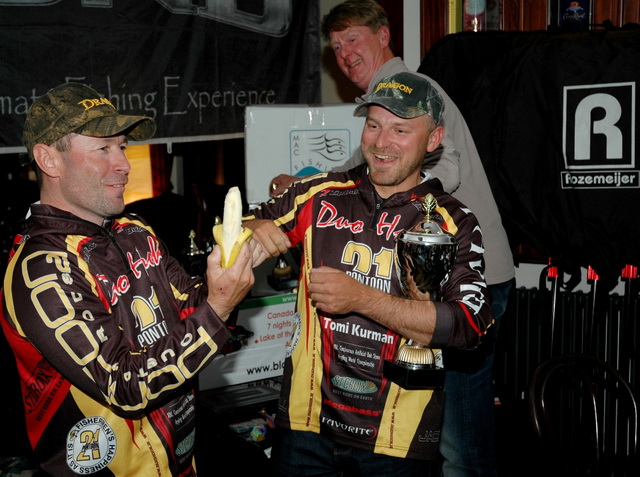 The hidden bananas in their boat brought only luck.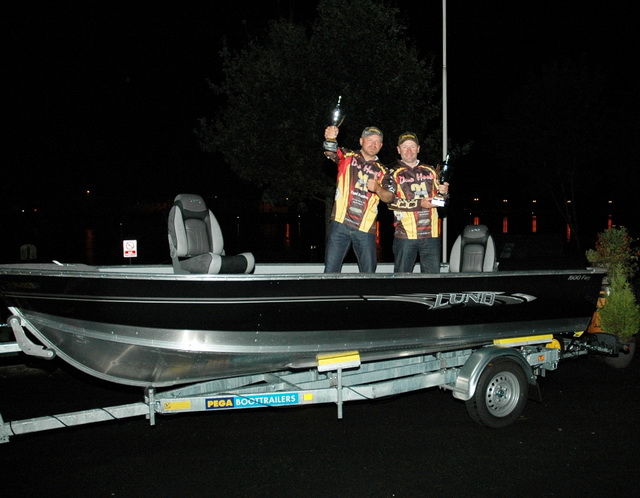 Their 1st Prize Lund boat fury 1600 tiller with a Pega boat trailer.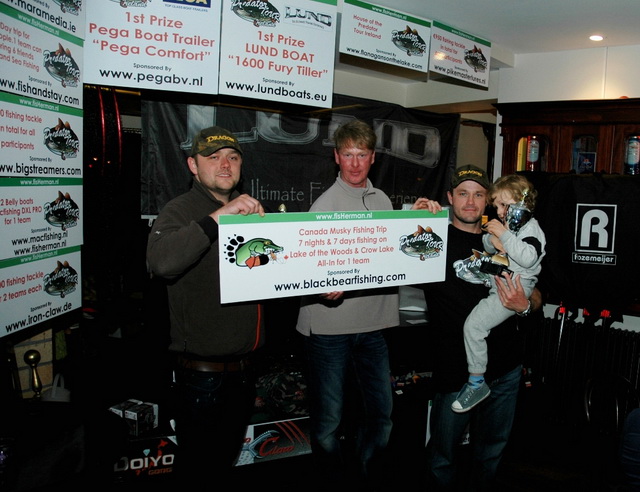 2nd Prize for Igor Klosowski and Rafal Pelc with a total of 506.5 cm
They go for a fishing week to Canada www.blackbearfishing.com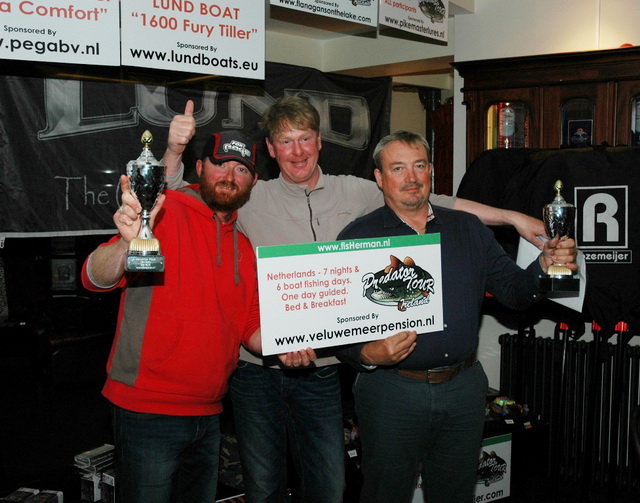 3rd Prize for Jean Philippe Carnet and Didier Chaudat with a total of 486.5 cm
They go for a fishing week to the Netherlands www.veluwemeerpension.nl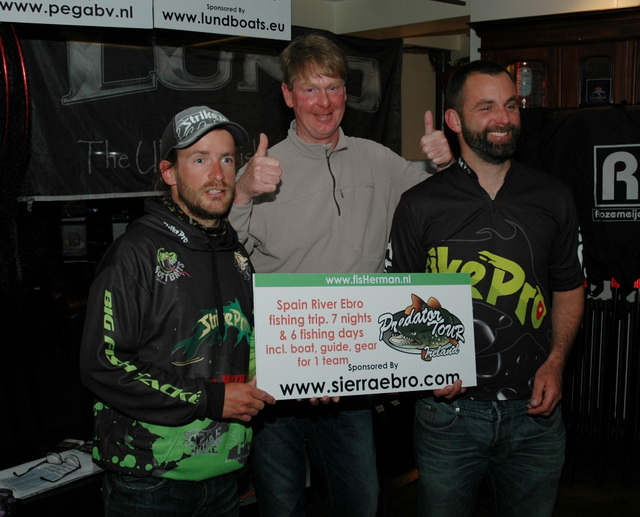 4th Prize for Pierre Monjarret and Jason Moloy with a total of 471 cm
They go for a fishing week to Spain www.sierraebro.com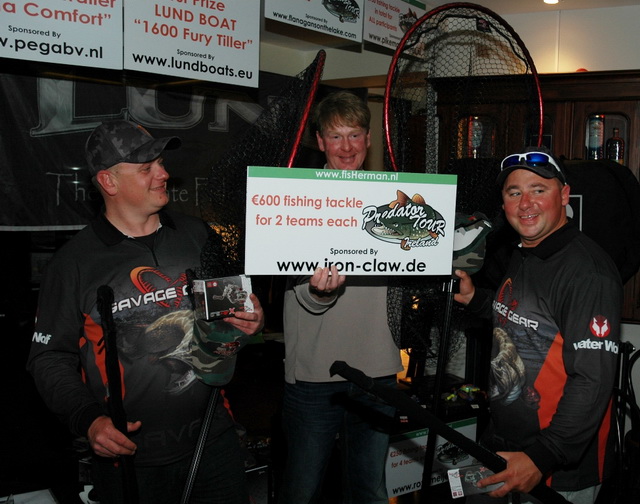 5th Prize for Bartosz Schoen and Krzysztof Sibiga with a total of 470.5 cm
They chose for the fishing tackle www.ironclaw.de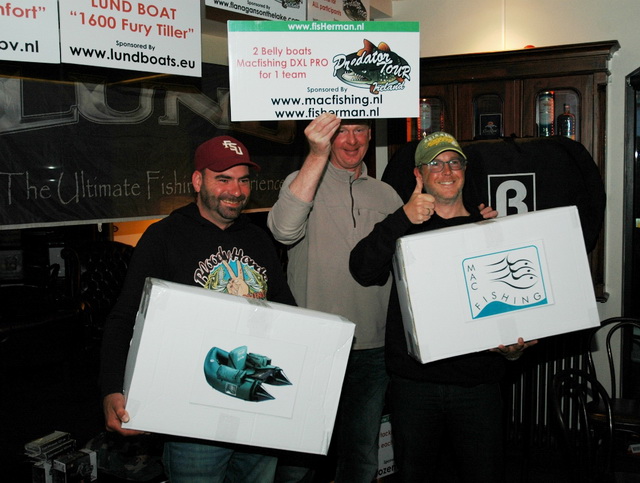 6th Prize for Volker Peterman and Andre Brugmans with a total of 470 cm
They chose the 2 belly boats from www.macfishing.nl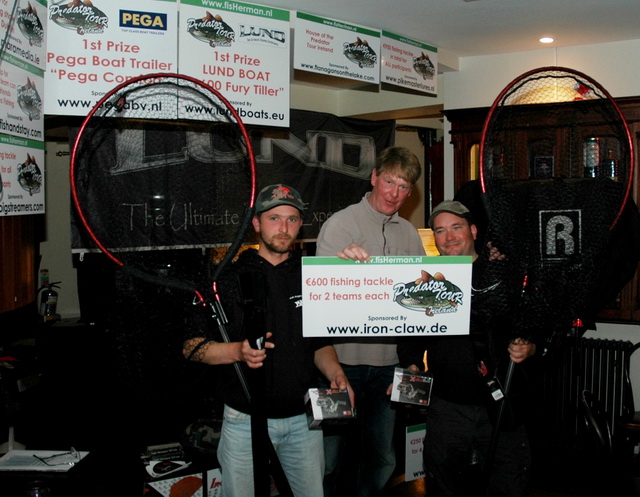 7th Prize for Tomasz Rzonca and Julian Dabioch with a total of 463.5 cm. They also chose for the fishing tackle of www.ironclaw.de Tomasz went back to Belfast so Frans helped him with all those great prizes.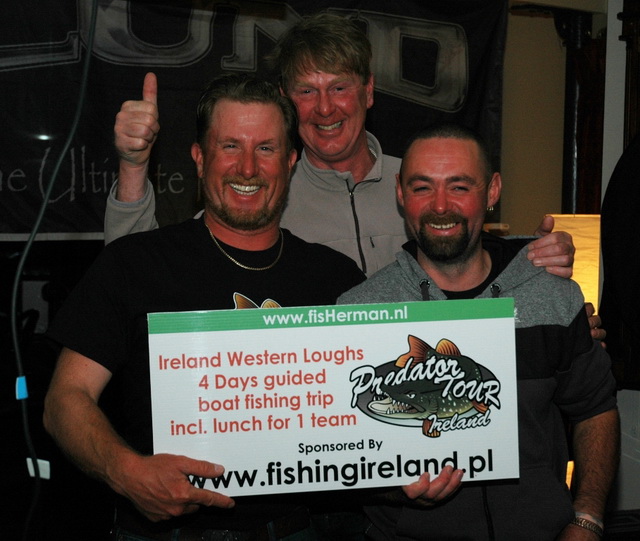 8th Prize for Bodo Funke and Brendan Sharkey with a total of 431.5 cm They will stay in Ireland for a fishing trip with the winners Tomasz and Jacek. Bodo said something as "I'm going to drown them there" haha have fun boys www.fishingireland.pl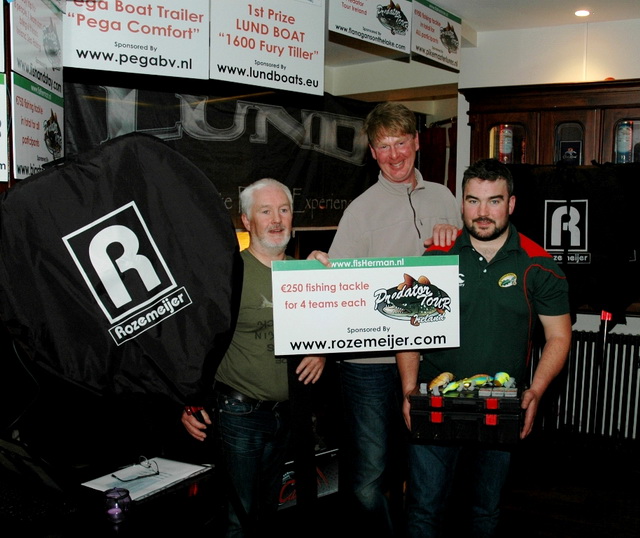 9th Prize for Kevin Callanan and Pat Callanan with a total of 431 cm.
They wanted the fishing tackle from www.rozemeijer.com
As you can see in the scoring list so far there is sometimes a  0.5 cm difference between the teams and when they are so close we check all the photo the day after again….just to be sure!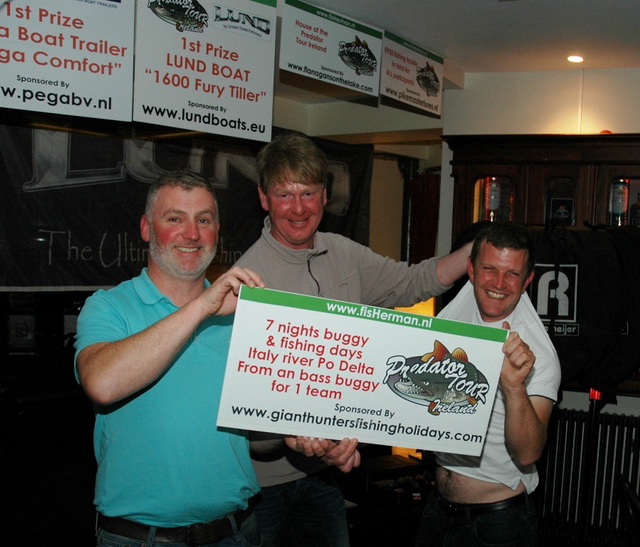 10th Prize for Patrick Mooney and Paul Bourke with a total of 416.5 cm. Not bad 10th and still winning a great prize to Italy for a week fishing www.gianthuntersfishingholidays.com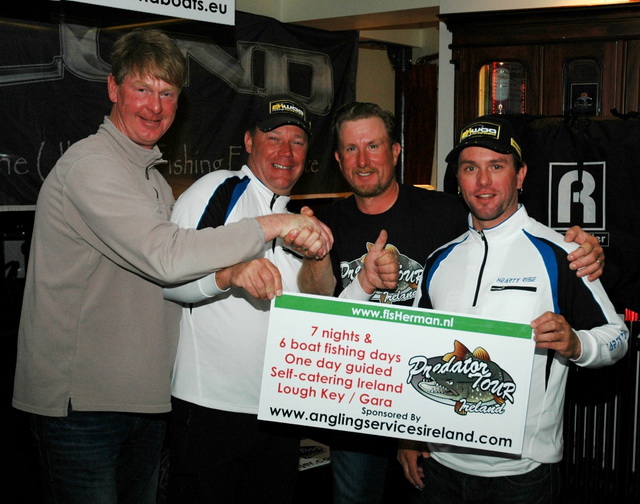 11th Prize for Phillipe Neuville and Rocky van Duijvenvoorde with a total of 402.5 cm. They go for a fishing week to Ireland www.anglingserviceireland.com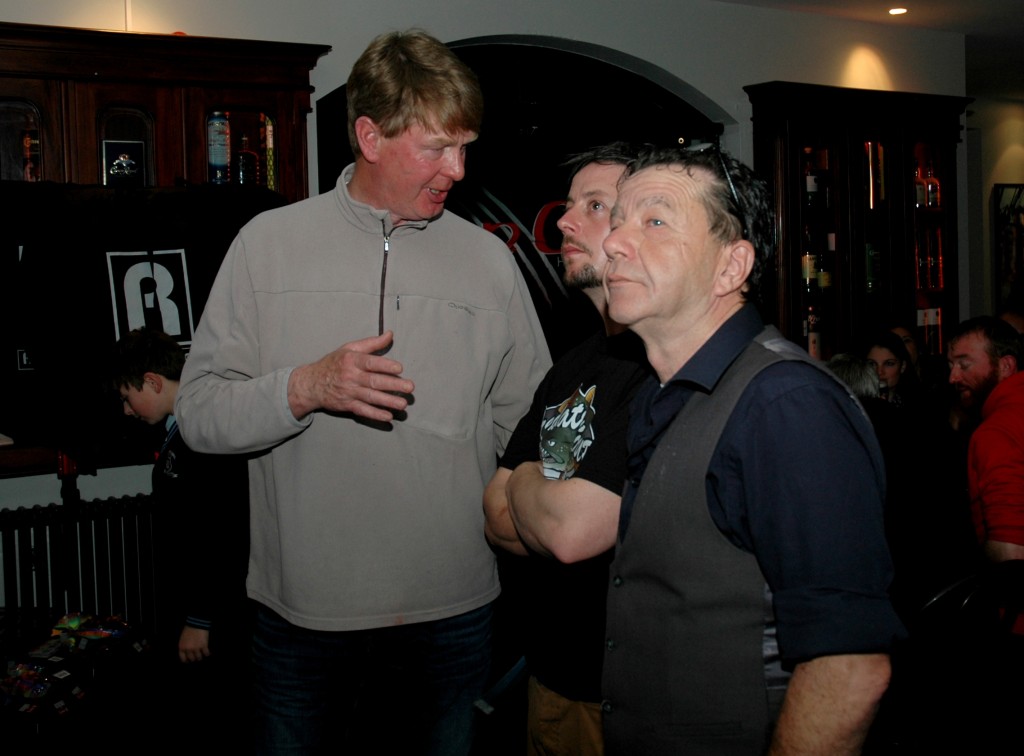 12th Prize for Damien Culliney and Martin Brendan with a total of 398 cm
They won the fishing tackle from www.rozemeijer.com
The First 12 teams are complete they have the 4 pike, 3 perch and the trout!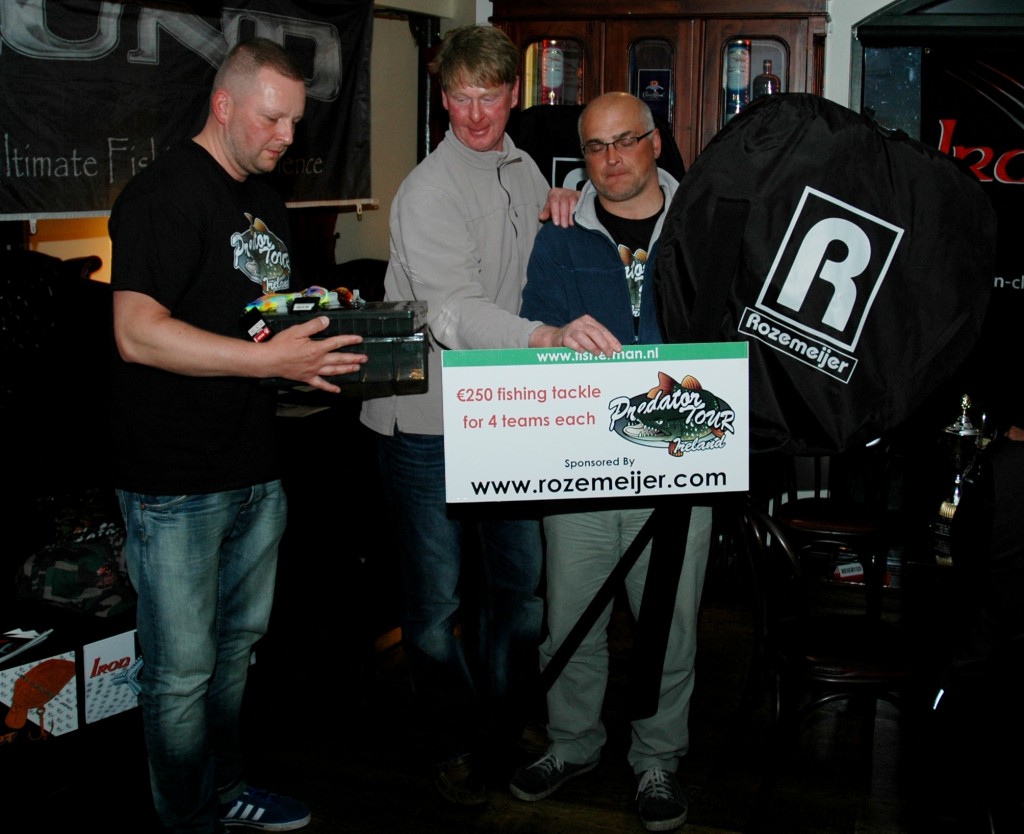 13th Prize for Pawel Kasztelan and Pawel Konon with a total of 426.5 cm ( no trout )
They won the fishing tackle from www.rozemeijer.com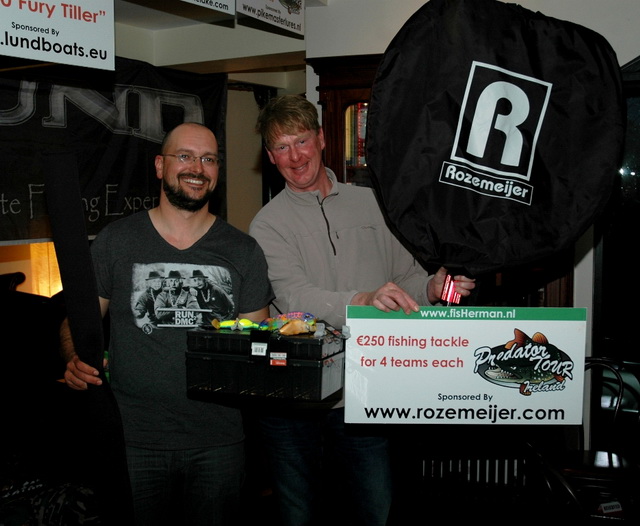 14th Prize for Oliviu Andries and Petre Pop with a total of 402 cm
The won the fishing tackle from www.rozemeijer.com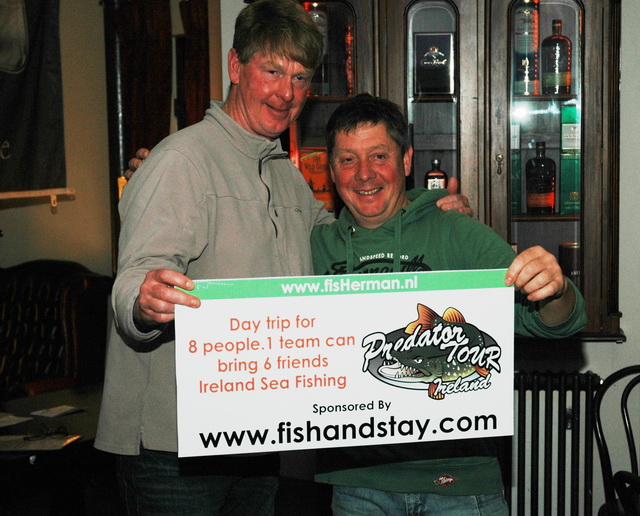 15th Prize for Ronny de Troy and Stefan Scholiers with a total of 376 cm
They go for a sea fishing trip in Ireland and they can bring 6 friends ( me me me ) www.fishandstay.com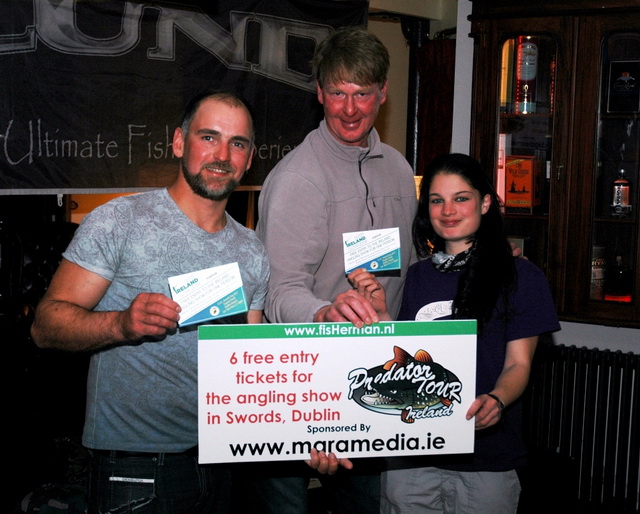 16th Gina Tanczos and Gerard Smyth with a total of 167 cm, just missed 1 Pike.
All big prizes are gone, but they like to go to and promote the fishing show in Dublin. Gerard will be there, so if you want to meet him…just go www.maramedia.ie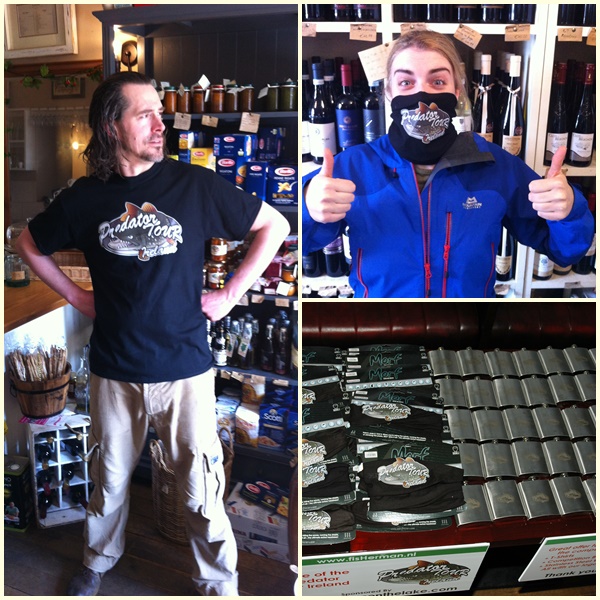 Bruno Presti a pike angler who has lost his heart to Lough Derg, Ireland. Did a spontaneously offer to sponsor the Predator Tour Ireland 2016 without wanting anything in return for it. He wishes you all the best! T-Shirts, whiskey flask and a buff all with the Predator Tour Ireland logo on it for all participants, so each participant get 3 free very nice presents from him. Thank you so much Bruno, you will make many teams very happy, I am anyway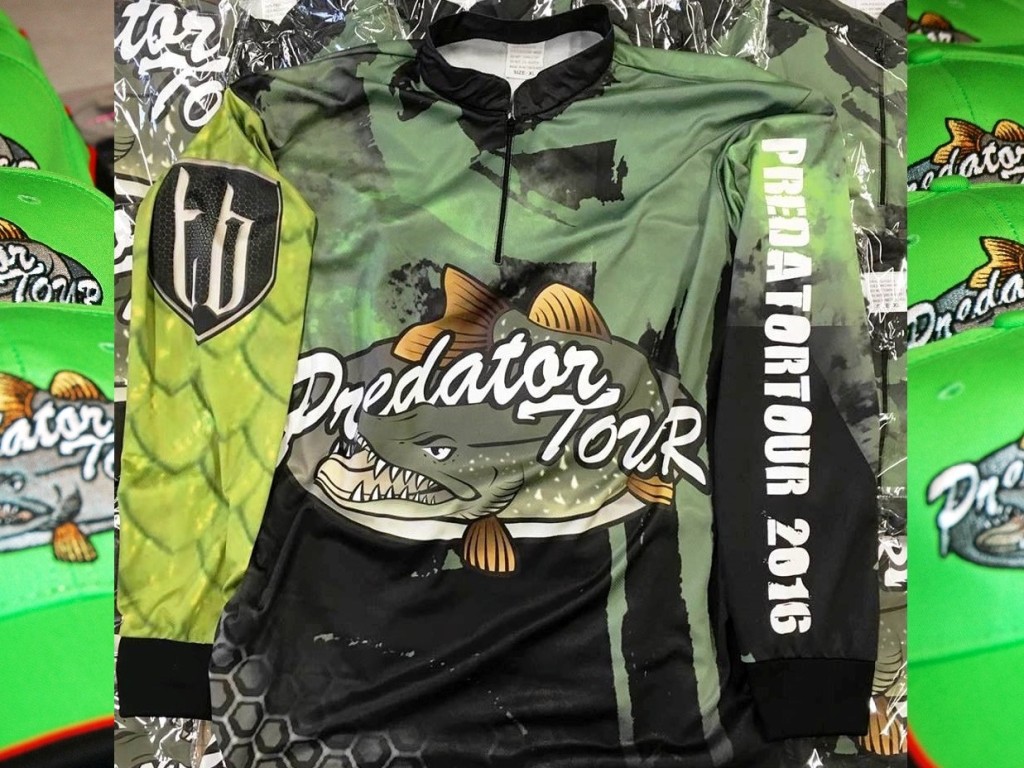 With special thanks to Pike Master Lures for the official predator caps for all participants and the great predator tournament shirt with a total value of 950 Euro. They were fighting for it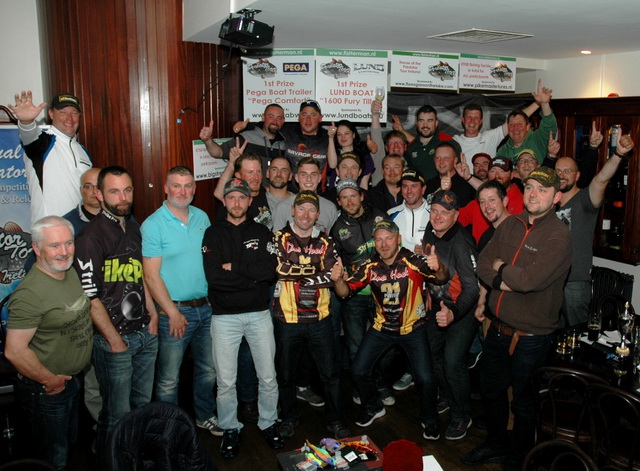 Predator Tour Ireland 2016 is done, I had a great week with you all and hope to see you all again.
Stay healthy and keep on fishing, the hobby we all like! Thank you so much….I need a big and long sleep right now haha.